Our classes are running online and outdoors
Think not about what you can't do, but about what you can do.

London, along with the rest of the UK, has a roadmap for easing the lockdown, which for us means:

Training sessions are conducted online and have resumed outdoors since 29th March. In line with Gov.uk Roadmap out of Lockdown: Step 1, as an organised group, we can exercise together outdoors.

Indoor group sessions may resume no earlier than 17th May in line with Gov.uk Step 3.

Gov.uk roadmap in detail…
Shiranamikai karate classes run throughout the week online and outdoors. Our in-person indoor sessions will resume in line with government guidelines. For now though, why not join us online.
Each of our sessions is suitable for children age 7+ and adults, of all levels, beginners through to advanced. We welcome new students at any time.
We also have classes specifically geared towards our younger members. We adjust the tempo and lighten the atmosphere further, and it is to these sessions that we invite your 5-year+ budding martial artist to begin their training. We lay the foundations of a lightly structured class and give them the encouragement they need to develop their confidence.
All you need for your first lesson is yourself. Comfortable clothing that will allow free range of movement such as tracksuit bottoms and a t-shirt is recommended for the first few lessons. All jewellery must be removed before the class starts. There is no rush to order a karate suit – you can do that from us at any time. Indoors, we train barefoot while outdoors you should wear trainers. A bottle of water and some fruit such as an apple or banana is ideal for after the class. Hand sanitiser and wipes are also recommended.

Register for classes
Online classes
Saturdays 3pm
Sundays 10am
Tuesdays 6.30pm
Thursdays 5pm

Register for classes
Our venues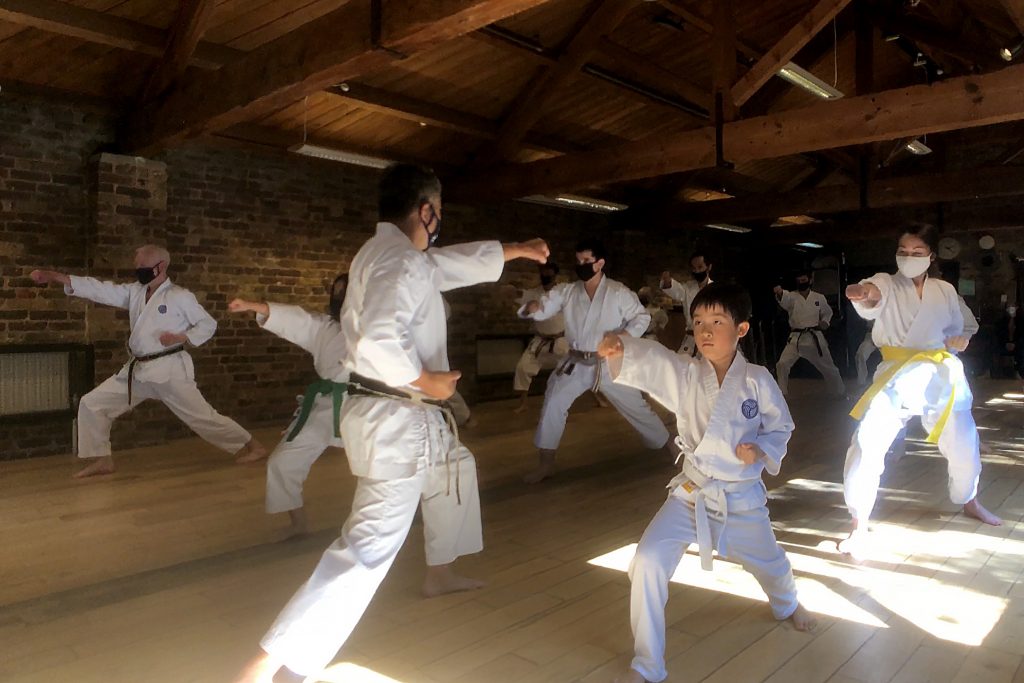 Saturdays 2pm (age 5+)
Saturdays 3pm
Tuesdays 4pm (children)

Join us online
Primrose Hill Community Centre, Hopkinson's Place, Fitzroy Road, NW1 8TN
7 minutes walk from Chalk Farm station, 20 minutes from Swiss Cottage/St John's Wood

Parking is available on the surrounding roads. Check signage.
Saturdays 4pm

Join us online
Studio 1, 1st Floor, Swiss Cottage Leisure Centre, Adelaide Road, London, NW3 3NF
From Swiss Cottage station, take exit 1 and turn left. The centre is adjacent to the library. Tell reception you are there for karate. Walk through the gates, up the stairs and around to the left. You'll find studio 1 on the right hand side.

Parking is available on the surrounding roads. Check signage.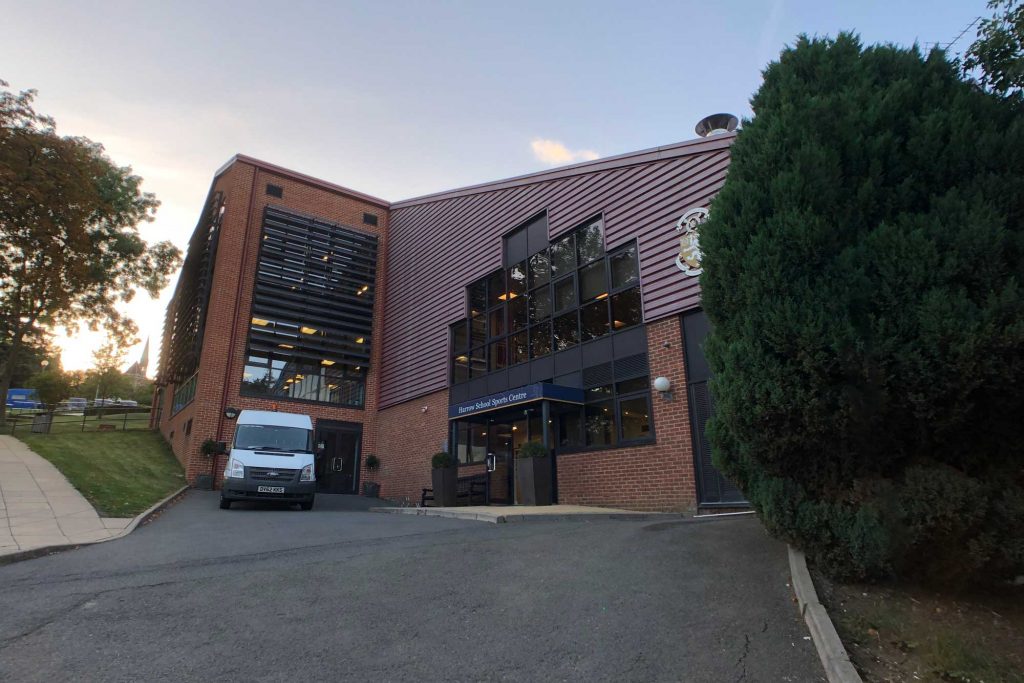 Wednesdays 7pm

Join us online
Harrow School Sports Centre, Garlands Lane, Harrow-on-the-Hill, Middlesex, HA1 3GF
A 10 minute walk from Harrow-on-the-Hill Underground station. Pass through the ticket barriers and exit left onto Station Approach. Walk straight ahead, cross Lowlands Road and turn left. Continue along Lowlands Road to the traffic lights at the crossroads and turn right onto Peterborough Road. Garlands Lane is the first turning on the left, leading down a steep incline to the sports fields car parks. Turn right at the bottom – the sports centre is a short walk on the right-hand side.

Parking available on-site.
Sundays 10am

Join us online
North London Collegiate School, Dalkeith Grove, Stanmore, HA7 4SQ. Access is via the sports centre
Just 10 minutes from Stanmore Station. Turn left out of the station and take the first road on the left, Merrion Avenue. Walk down to the end and turn left onto Dalkeith Road. The school entrance is just over the humpback bridge on the right-hand side. Reception at Canons Sports Centre will direct you to our upstairs studio.

Parking available on-site.
Tuesdays 6.30pm

Join us online
The Venue, 2nd Floor, O2 Centre, 255 Finchley Road, London, NW3 6LU
It's a 1 minute walk from Finchley Road station. Turn left from the exit, then left again into the O2 Centre. Take the lift / escalator upstairs and walk around to Byron restaurant. Walk to the end of the adjacent corridor and turn left.

2 hours free parking is available if you spend £10 or more in Sainsbury's, and have them validate your parking ticket. Parking discounts are also available by spending in stores.
Outdoor classes
Resumed since 29th March:
Saturdays at 8-9am (adults) and 9-10am (children).
Mondays / Wednesdays / Fridays at 7am (advanced)

Register for classes
Children's classes
Our dedicated indoor children's classes are suitable for beginners and age 5 upwards. Older children may be invited to attend our senior sessions.
Saturdays 2pm
Tuesdays 4pm

Details of our children's classes
We give young children the encouragement they need to develop their confidence