Those who have seen the original Karate Kid film starring Ralph Macchio as Daniel LaRusso and Noriyuki 'Pat' Morita as Mr Miyagi may well have been surprised to find out that it has seemingly been re-written specifically for Jackie Chan and Jaden Smith.
Interesting that the film was produced by Dad Will Smith and Mum Jada Pinkett Smith but let's not jump to too many conclusions – Jackie Chan is a living martial arts acting legend and Jaden Smith has been credited with convincing acting talent.
The plot seems to be loosly the same: boy moves to different area with his mum, reads karate books, meets a girl from the new neighbourhood, local boys don't like this and the bullying starts. Enter Mr Miyagi… sorry, Mr Han (Chan), who at first appears to be just a humble janitor but in actual fact is a talented martial artist who takes the boy under his wing and teaches him kung fu (not karate).
With the original film, Miyagi was a physically unassuming old man who liked to keep himself to himself. In the acting world too, Noriyuki was relatively unknown. When I first saw this film some years ago aged (nearly) 15* and Mr Miyagi jumped into the scene to save Daniel from yet another, more serious beating, I was blown away. Who would have thought that the nice old man could fly? Of course, he did have help from his stunt double: Fumio Demura, an authoritative Okinawan Shito Ryu instructor.
So why not call it The Kung Fu Kid?
They're the same, aren't they?! Well, yes and no. While karate was developed in Japan, it can trace its early roots back to China. More recently, in the 1930s/40s, Nakayama Masatoshi (Head of the JKA for 30 years until 1987) spent time studying and training there. But those who practise either Karate or Kung Fu will know that there are also fundamental differences.
Financially, it could well make sense to use Chan because he is already an international star and people would go to see the film just because he is in it. Also, with the new film's production budget purportedly in the region of $40m, this will no doubt dwarf that of the original, low budget film. But have the film backers overlooked the charm of the original? There were lots of important messages in the original and the unknown cast allowed their characters to be built without any preconceptions. In contrast, we all know that Chan is a superb martial artist, while young Smith certainly doesn't appear to be shy around cameras!
Whatever the verdict, this film will surely help to raise the profile of both Karate and Kung fu, attracting too, those who might not enjoy mainstream physical activities and this can only be a good thing.
The new film is on general release now. The Sony trailer is below, along with a link to the official website: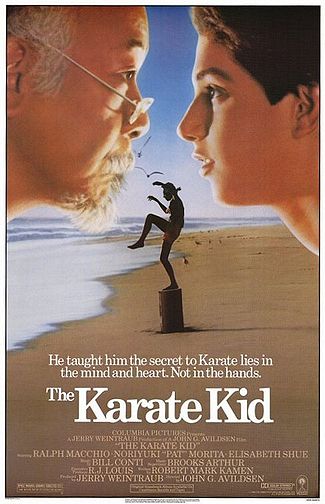 For fans of the original films, you can find some more information here:
http://en.wikipedia.org/wiki/The_Karate_Kid
*The original film is rated 15, so I had to wait a few years before I could watch it on video.