When to start children
We accept children from the age of 5 years in our children's class, and from 7 years at our other sessions once they have experience and can keep up with a mixed ability group. Some older children and teens will be able to join our mixed sessions directly, as beginners, if appropriate.
Starting as an adult
There is no upper age limit for adults wishing to start. Karate is physically demanding but we will help you to improve your fitness levels gradually. If it has been a long while since you've exercised, or if you have a health condition that could affect your ability to exercise safely, you may wish to seek advice from your GP prior to starting.
Training fees
Our children's classes are paid by the term while monthly payment options are available for teens and adults training regularly at our mixed sessions. After you have attended three lessons, if you wish to continue training with us you will also need to register for membership with The Japan Karate Association in England which costs £25 per annum.
Karate outfit
For your first few lessons, we suggest wearing clothes that are easy to move in like jogging bottoms and a t-shirt. Once you are sure that you wish to continue then you should purchase a white karate uniform. Entry-level uniforms embroidered with the club logo can be ordered through your instructor. The cost will vary depending on the size and manufacturer, but you can expect to pay from £35 for a child's suit and £45 for an adult's. Superior quality karategis from Japan are available to order. These cost substantially more but are worth the investment for the serious karateka.
You don't need any special clothing to start, just something comfortable that will allow a free range of movement
What to expect from your first lesson
Before training starts, we line up in grade order, kneel and bow to the front of the dojo, to the instructor, then to each other. One of the senior grades will lead the warm-up exercises. The lesson itself consists of kihon (fundamental techniques), kata (forms) and kumite (partner work) to develop techniques. Beginners will be introduced to the range of karate techniques gradually with the emphasis being on developing coordination and big movements. The class ends with another formal, kneeling bow.
How often to attend classes
We recommend attending classes at least twice per week along with regular practise at home. Karate is a challenging but enjoyable activity and a consistent approach to training will give you the best chance of reaping its benefits. If you wish to take gradings, those training twice a week are more likely to be eligible to grade at 3 month intervals. If you train less often, or to an irregular pattern, then the time between each exam will be more widely spaced.
---
Grade levels and belt colours
There are 10 different kyu grade levels. The colour of each belt changes to denote progress through each level.
In the weeks approaching a grading, the instructor will make an assessment of which students have made sufficient progress to be able to attempt the next level. Exams are conducted by an independent, qualified examiner from The Japan Karate Association in England. Members can find details of grading dates for the year on our events calendar page.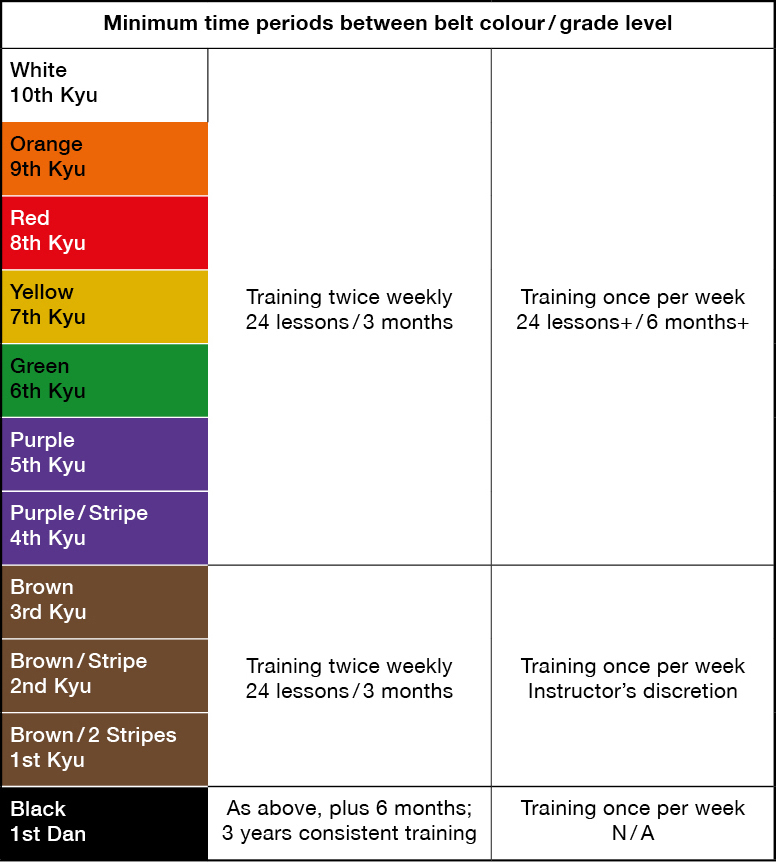 ---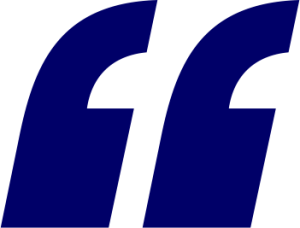 Karate is not just something to be learned, but something to be lived. And that takes a lifetime.

The Japan Karate Association
Etiquette
There is some formality in class, like the bow at the start and the end of the lesson, but much of what we expect is simple good manners and common sense. Students need to remove all jewellery, be attentive, and actively engage with the class. Fingernails and toenails must be clipped short and karate uniforms washed after each lesson. Mobile phones should be switched to silent unless expecting an urgent call.
Try to be on time to class and bow to the front of the room when entering. If you arrive late, leave your belongings to the side and your lesson card (if you have one) on the table with the others. Then, kneel down near the dojo entrance, in line of sight and facing the instructor, who will invite you to join the class at a safe and convenient point. Bow to the instructor and join at the end of the line.
If you arrive very late or after the warm-up has finished, the instructor may suggest that first-timers just watch the class on that occasion. Regular students arriving after the warm-up has finished should warm-up away from the main group first, then kneel down when they are ready to join in with the class.
Karate training is undoubtably a challenging activity but hopefully an enjoyable experience too. Classes at Shiranamikai are certainly not like boot camp! All we ask is that you contribute to the positive atmosphere of the dojo by trying your best and being respectful to other students.
Have some questions?